I'm not a coder and struggling to work this out so was wondering is there anyone who could help me with some guidance with trying to figure out how to write a string format to display the current thermostat setpoint in use, based on the thermostat selection of Heat, Cool, Energy Saving, Off.
The thermostat displays in my Fibaro HC2 as four separate devices i.e.
Heat (HomeRemote Binding - ConservatoryConservatoryHeatTe.HeatingSetpoint)
Cool (HomeRemote Binding - ConservatoryConservatoryCoolTe.CoolingSetpoint)
Energy Saving (HomeRemote this does not show in HomeRemote and I believe is unsupported so I guess I'm best using the output from Binding - ConservatoryConservatoryThermos.ThermostatMode) This will report Unknown
Idle (this is displayed in HomeRemote using the binding ConservatoryConservatoryThermos.ThermostatMode)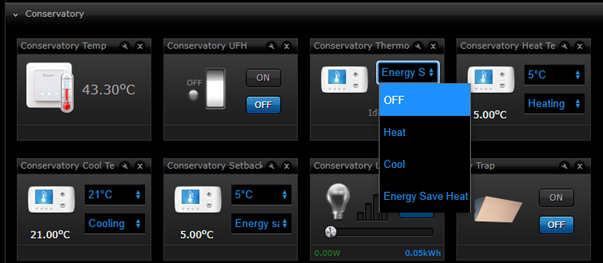 The way it works in HC2 is I have to predefine/save the pre-set temperature requirements for each of the device category's (Heat, Cool, Energy Saving). I then have to select the mode type I require to switch the heating (i.e. Heat, Cool, Energy Saving, Off).
When I select the mode type in HC2, HomeRemote reports the mode type using this binding name - ConservatoryConservatoryThermos.ThermostatMode i.e. -
Heat
Cool
Unknown
Off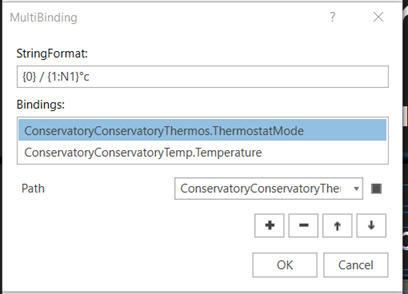 I'm struggling to work out how to convert the output from the text i.e. if it reports -
Heat then display binding output temperature of ConservatoryConservatoryHeatTe.HeatingSetpoint
Cool then display binding output temperature of ConservatoryConservatoryCoolTe.CoolingSetpoint
Unknown then display binding output of ConservatoryConservatoryThermos.ThermostatMode (which will output Unknown as this mode is not supported in HomeRemote)
Off then display binding output of ConservatoryConservatoryThermos.ThermostatMode (which will output Off)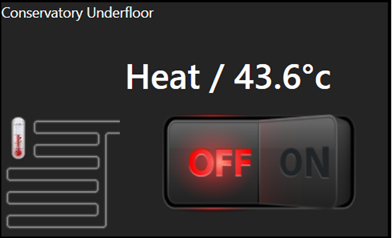 Many thanks
Steve