I wonder if anyone can help me with the setup/integration of my new Integra DRX 3.4 AVR?
I have added the Integra as a device via the THR Devices menu and the unit connects and works.
However, the available/exposed controls in the THR implementation seem to be minimal - I'd ideally like more granular control (and feedback) of information (via labels/images) for things like codecs, bitrate, speaker volumes/outputs and modes (FR, FL, LFE, Dolby Atmos, etc.)
For example: Each time I press the 'Info' button on the Integra remote, it cycles through the currently-playing information (Input/source, codec, bitrate, etc). I have this button setup in THR and it works (cycling the info on the AVR unit). However, I cannot get the resulting output to display in a THR label - there is no Info binding available when I go to select it (see image…)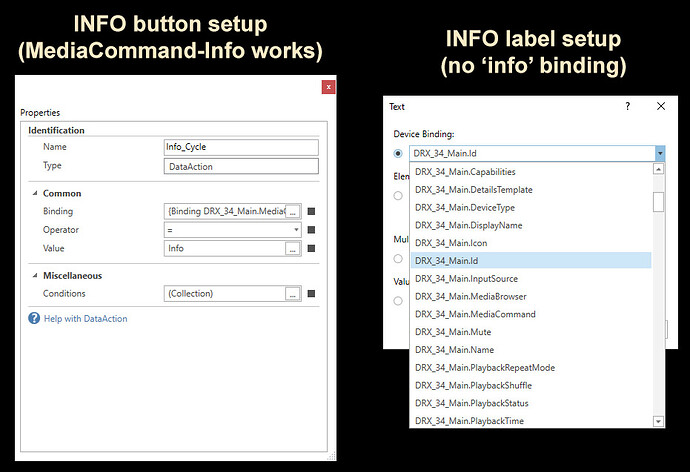 There are other Integra remote buttons that control the db 'Tone' of: Bass, Treble and Vocal. However, in THR there are only Bass and Treble bindings, so I'd like to add the Vocal option too.
So, you get the idea - without going any further on more advanced controls, can anyone help with the Integra integration? Maybe I'm missing something very simple here - or maybe it needs a bespoke plugin. The Integra AVR is in the same stable as Onkyo and Pioneer (and from what I've researched, they all use the same/similar control system) so if anyone has any info/help (or plugins!) to chime in with that might be relevant it would be much appreciated too.
Thanks in advance,
Shuggs