Here is my take on the new "Google Cast" support that was added to Home Remote recently.
I have created custom hybrid tiles.
ChromeCast TV -
HDMI ChromeCast devices connected to the TV screens.
The round Cast icons are actually buttons that turn on or off my Logitech Harmony activities that turn on the TV's and AV amplifiers and set them to the right inputs for the ChromeCast's etc.
The On / Off label is also linked in to the Harmony Activity .swtich.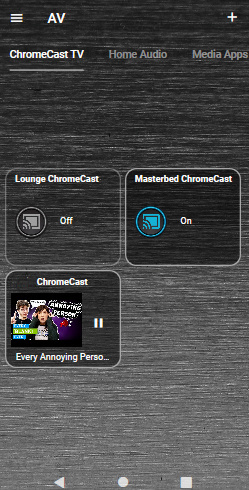 If I press else where on the tile, for example on the Lounge ChromeCast one which is currently off, I get a "Device is off" banner on the details page.
I can also press the power button on this details page to turn on / off the Harmony ChromeCast activity.
I added a Stop button to stop the casting playback.
And I had to add the Up / Down buttons next to the slider to control my Amplifiers volume, as I couldn't use the slider for volume control for devices controlled by Harmony IR.
So the slider still controls the actual volume of the ChromeCast device itself, as does the Mute button.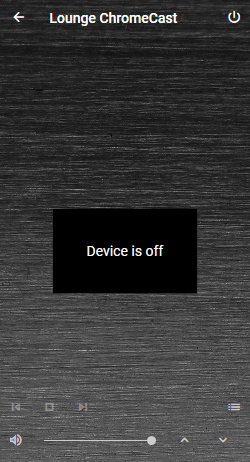 If I click on a tile that is turned on but not playing media, like the Masterbed ChromeCast tile, I just get a "Movie" icon in the middle of the page.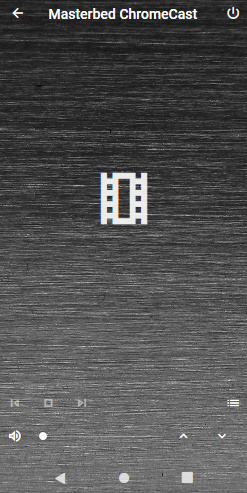 And this is a details page when content is Casting. I can now easily see what my daughter is watching which is handy.
There is the Pause / Play button and the Stop button I added also.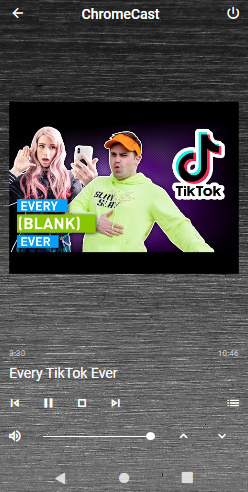 The "Home Audio" Group is for Google Home speakers and ChromeCast Audio devices.
The Google Home icons are just icons not buttons.
The ChromeCast Audio icons are buttons and turn on / off switches in Vera to turn those amplifiers on / off etc.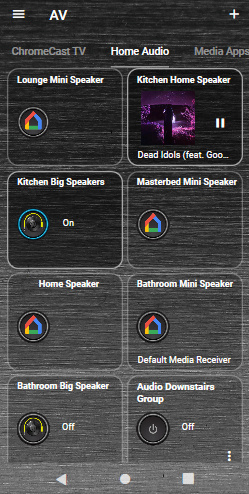 The Audio Groups are switches in Vera that run scenes to turn on / off AV devices.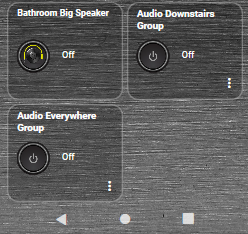 Google Home speaker not currently playing anything on the details page.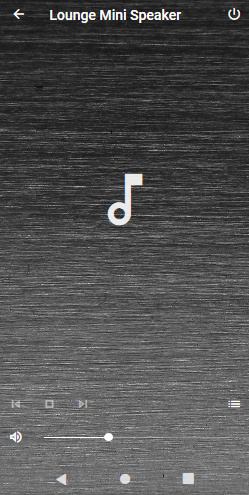 Google Home speaker details page whilst playing music from Spotify.
The button I have highlighted doesn't seem to work or do anything.
I also added a Stop button.
The volume slider controls the volume of the Google Home speaker.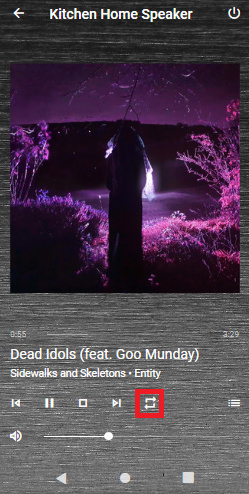 If you go in to a ChromeCast Audio details page and the Amplifier switch is off you see a "Device is off" banner.
Power button top right will control the Vera switch to turn on / off the amplifier.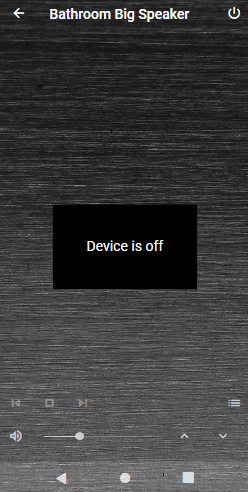 ChromeCast Audio device whilst playing music from Spotify.
Up / Down arrows to control the amplifiers volume.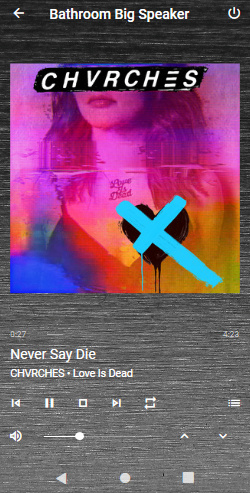 Media Apps Group - tiles to launch Android apps